Residential Upholstery Cleaning
06/04/2015
Back To Blog
If you want to know how often you should have your furniture cleaned, Carpet Cleaning Belmont will tell you that this is determined by how often the furniture is used. When there are pets in the home that are allowed to lounge around on your furniture, your furniture may require more cleaning than someone without pets. The same is true if you have small children. Since they have a tendency to spill things, it may be necessary for you to have your furniture cleaned more often than someone without children. The dirt and any dander from pets can get deep into your furniture, making it impossible for a homeowner to clean it on their own.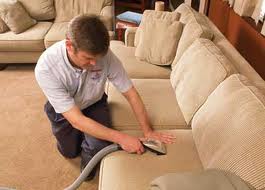 Hiring a Professional Upholstery Cleaner
If you want to make sure all traces of dirt, dander and grim are removed from your furniture, you should consider hiring a professional cleaner. Using a professional carpet cleaning service to clean your upholstery has many benefits. One of the benefits is that they are familiar with the various types of upholstery materials. Their being familiar with the different types of fabrics makes it possible for them to use the products, which are best suited for cleaning that particular type of fabric. This means you can avoid the tragedy of having your furniture damaged by using the wrong types of cleaning products. This leads us to the next benefit of using a professional cleaning service, saving money. An expert knows how to effectively clean your upholstery so that it looks like new again. This enables you to keep your furniture longer thus saving you money on having to replace it. Finally, a professional service can use eco-friendly products that the average homeowner may not be aware of. Using such products not only help the environment but they also have health benefits for everyone in your home, including pets.

Healthy Living

The best way to ensure a clean and safe environment is to have your carpets and upholstery cleaned on a regular basis. Using professional services to do so, means that you stand a better chance of actually being able to protect yourself from harmful allergens, and other pollutants that can be found in your home.